Welcome Stanner Alumni
Welcome to the Archbishop Molloy High School & St. Ann's Academy alumni community. Please note that this version of our site is for member login ONLY. We encourage you to take a look around our new Alumni Homepage and some of our new features Alumni Networks, a full staff directory, newly updated "Famous Stanners," and information about Named Scholarships. This site, which is the old alumni website, will continue to give you access to your previous member profile and class information. Click here to login: Alumni Login
---
Stanner Alumni Reunion – REGISTER NOW!
When: Saturday, November 5th, 2016
Where: Archbishop Molloy High School
Who: Classes of 1946, 1951, 1956, 1961, 1966, 1971, 1976, 1981, 1986, 1991, 1996, 2001, 2006, 2011
Admission: $100 per person | $150 w/spouse or date
Discount for Class of 2011: $50 per person
Discount for Class of 1966: Complimentary for you w/spouse or date
Contact: Matt Rizzotti | mrizzotti@molloyhs.org | (718) 943-3186
The Stanner Alumni Reunion for class years ending in 1 and 6 is all set to take place here at Molloy on Saturday, November 5th. The Reunion is a wonderful opportunity to reconnect with your alma mater, rekindle old friendships, and make new ones with classmates and teachers alike. We will be celebrating many wonderful milestones, including the Class of 1966's 50th "Golden" Anniversary, as well as the Class of 1991's 25th "Silver" Anniversary. Your ticket includes dinner, dancing, dessert, and open bar. More information about the evening's schedule, valet parking, and more can be found on your class event page at www.molloyhs.org/events.
Please click the link above to visit the event calendar and find your class event page. If you have any questions at all about the reunion please contact Matt Rizzotti '04 via the information above.
---
30th Anniversary Jim Kinnier Stanner Golf Classic - THANK YOU!
Archbishop Molloy High School would like to extend its sincerest thanks to all of our alumni, corporate sponsors, parents, and friends who participated in this year's milestone 30th Annual Jim Kinnier Stanner Golf Classic. Whether you were a golfer, purchased raffle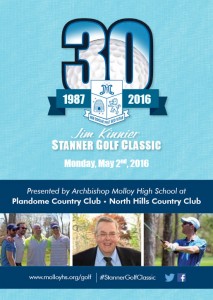 tickets, sponsored a journal ad or corporate package, volunteered or donated, you played an important part toward our goal of supporting Molloy's scholarship program. Your hard work will directly impact two incoming freshmen next year as well as many more students in the years to come. You make a tremendous difference in their lives, and we are so grateful for your support.
We invite you to download this year's golf journal, which includes many ads from Stanner owned and Stanner friendly businessess in the tri-state area. It's also a great resource for information about the history of our outing, including notes about past Chairmen, this year's Chairman Joe Papavero '04, and the "Three Amigos" Jim Kinnier, John Gibbons, and Joe Smith. Click the link below or the image to download a low resolution version of the journal in PDF format.
Once again, thank you for your support, and we look forward to seeing you next spring at the 31st Annual Jim Kinnier Stanner Golf Classic. For more information about the outing please visitwww.molloyhs.org/golf. If you have any questions please contact Matt Rizzotti '04 atmrizzotti@molloyhs.org or (718) 943-3186.
---
Download the 2014-15 Annual Report
The Stanner Alumni Center encourages you to download its Annual Report for the 2014-15 fiscal year (September 1, 2014 through August 31, 2015). This report includes the names of each individual, family, and corporate sponsor who so generously supported Archbishop Molloy High School during the 2014-15 fiscal year. This includes donations made to The Fund For Molloy, Named Scholarships, our annual Walkathon, and several other areas of need around the school. You will also find information about Molloy's legacy giving program, The Zephiriny Society, as well as an informative "By The Numbers" feature. If you have any questions or thoughts about the report please contact the Stanner Alumni Center at (718) 441-9210 or email alumni@molloyhs.org.
DOWNLOAD THE 2014-15 ANNUAL REPORT (High Resolution)
DOWNLOAD THE 2014-15 ANNUAL REPORT (Low Resolution)
---
Photo Galleries
Molloy has hosted some great alumni events this year! Check out the galleries below or click here for a full list of galleries from the past several years of events.
St. Ann's Breakfast 6/5/16
2016 Graduation 6/4/16

2016 Grad Breakfast 6/6/16

Stanner Golf Classic 5/2/16
Soccer Reunion 4/16/16

International Day 4/10/16

Wine Tasting 2/18/16
Br. Ron Marcellin Dinner 1/17/16
Badges Reception / Molloy Vs. CTK 1/8/16
Real Estate Networking Event 11/18/15
Stanner Alumni Reunion 11/7/15
Andrew Harvey 5K Fun Run 10/4/15